golfdigg REWARDS
"PLAY MORE ENJOY MORE"
รายละเอียดของรางวัล
(English in below)
รายละเอียดของรางวัล
REWARDS : Precept Laddie Extreme Golf Ball Set
(3 balls) 215 THB
เมื่อจองออกรอบกับ 20 สนามที่ร่วมรายการ
When book with 20 participating golf courses
1.THE VINTAGE CLUB
2.KRUNGTHEP KREETHA GOLF
3.UNICO GRANDE GOLF COURSE
4.BANGKOK GOLF CLUB
5.KRUNG KAVEE GOLF & COUNTRY CLUB ESTATE
6.RANCHO CHARNVEE RESORT AND COUNTRY CLUB
7.PATTANA GOLF CLUB & RESORT
8.RAYONG GREEN VALLEY COUNTRY CLUB
9.PARICHAT INTERNATIONAL GOLF LINK
10..SUMMIT WINDMILL GOLF RESIDENCE
11.GRAND PRIX GOLF CLUB
12.LAEM CHABANG INTERNATIONAL COUNTRY CLUB
13.BANYAN GOLF CLUB
14.PALM HILLS GOLF CLUB AND RESIDENCE
15.KHAO KHEOW COUNTRY CLUB
16.KHAOYAI GOLF CLUB
17.THANYA GOLF CLUB
18.BANGPOO GOLF AND SPORT
19.ROYAL BANG PA-IN
20.SAWANG RESORT AND GOLF CLUB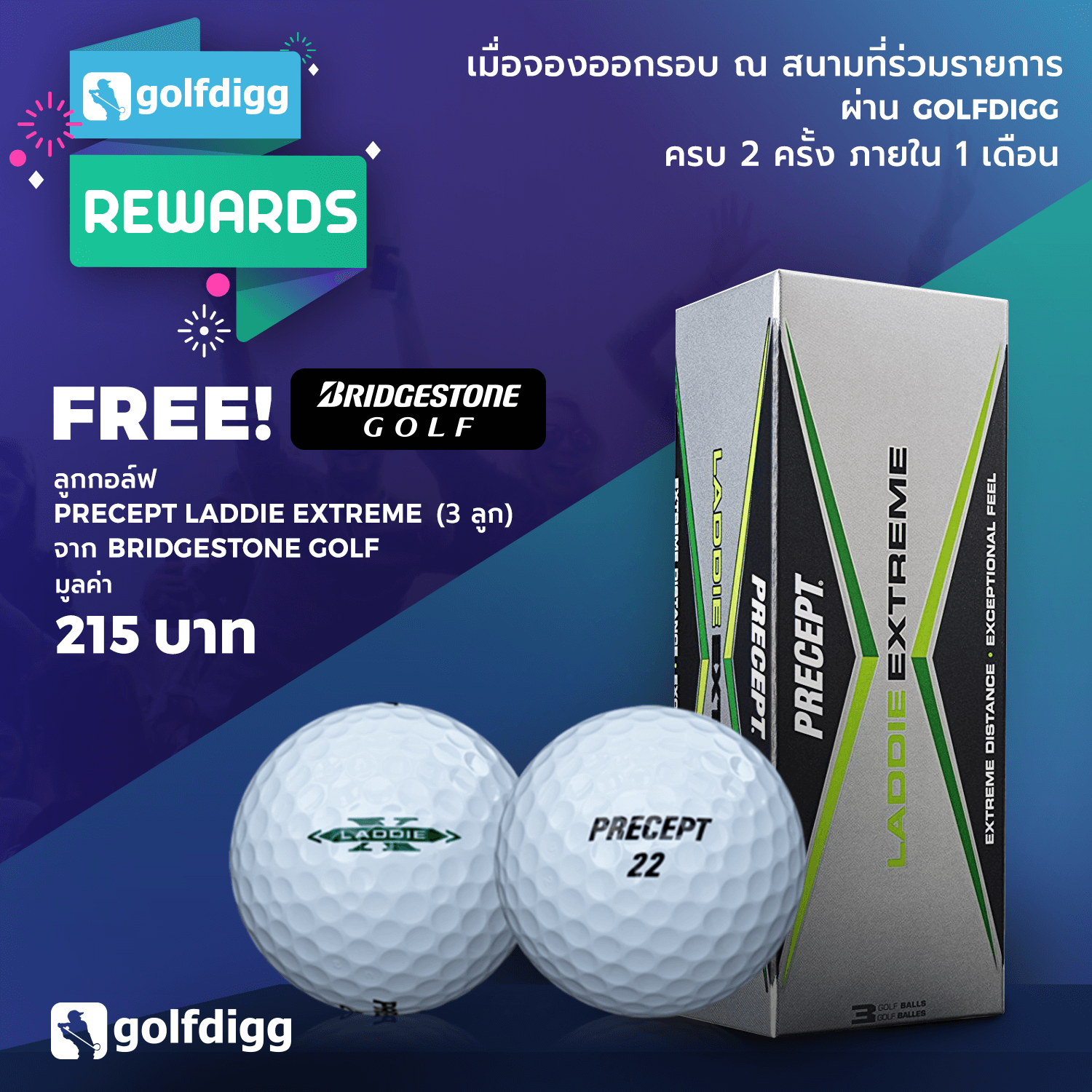 เงื่อนไข
-สะสมแสตมป์ 2 ดวง ภายใน 1 เดือน เพื่อรับ
เซต ลูกกอล์ฟ Precept Laddie Extreme (3 ลูก)
จาก BRIDGESTONE GOLF มูลค่า 215 THB
-รับแสตมป์ 1 ดวงเมื่อจองออกรอบกับสนามที่ร่วมรายการ 20 สนาม ผ่าน golfdigg
-สแกน QR code ณ ป้ายตั้งเคาน์เตอร์สนามกอล์ฟที่ร่วมรายการ ทุกครั้ง

วิธีการรับของรางวัล
– เมื่อสะสมแสตมป์ครบ กด REDEEM ที่หน้า REWARDS ในแอปพลิเคชัน golfdigg
– ลูกค้าจะได้รับอีเมลยืนยัน และสอบถามชื่อและที่อยู่ เพื่อจัดส่ง
– *ตั้งแต่ 1 พ.ค. – 31  พ.ค. 2562
Rewards details
Reward: 
BRIDGESTONE GOLF 
Precept Laddie Extreme Golf Ball Set 
(3 balls) worth 215 THB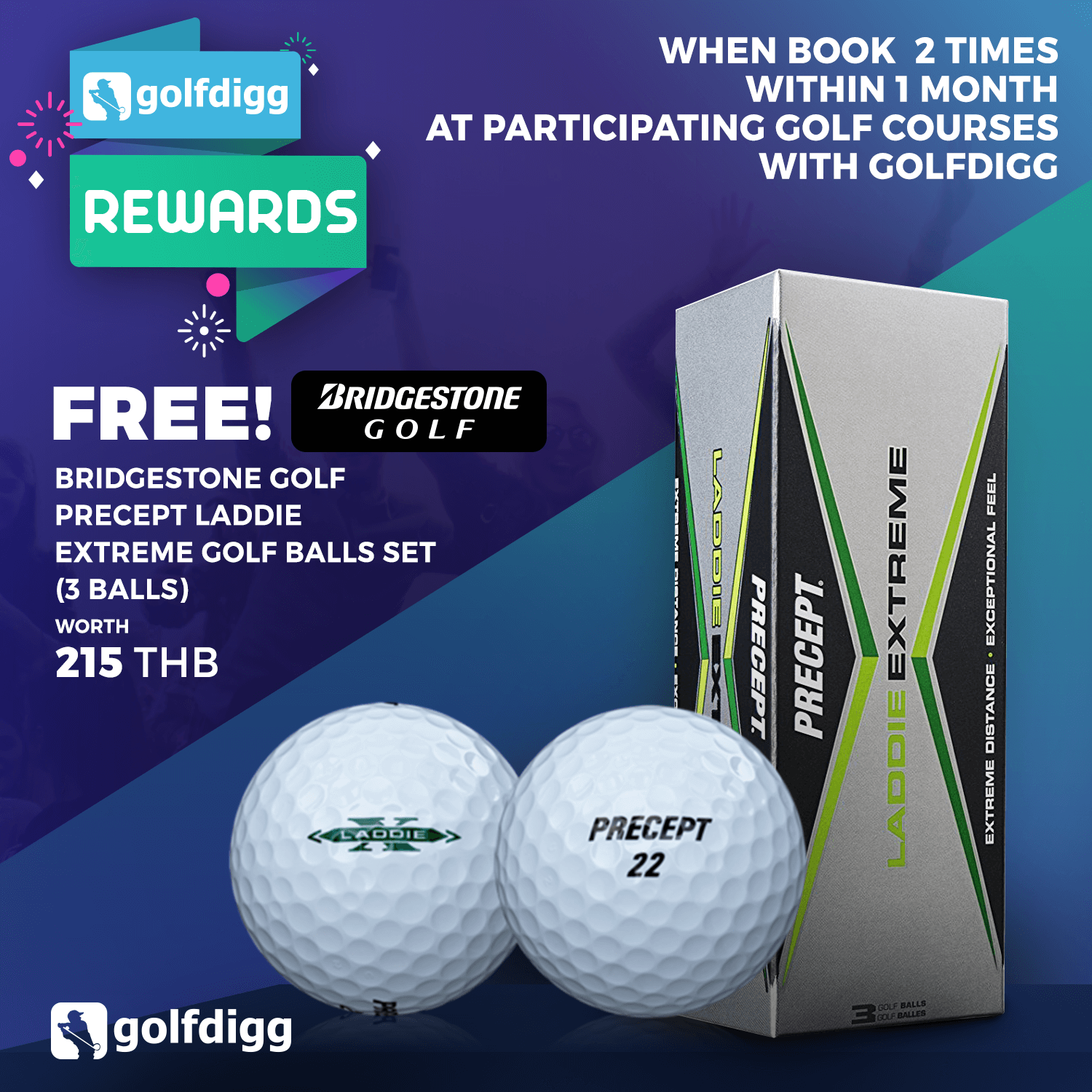 Conditions
-Collect 2 stamps within 1 months to get
  BRIDGESTONE GOLF Precept Laddie Extreme Golf Balls Set
(3 balls) worth 215 THB
-Get 1 stamp from scanning QR Code from your BOOKING page 2 hrs. before tee time at participating golf courses.
-Tap "REDEEM" to get reward. Reward confirmation will be send to your email.
*Valid 1 – 31  May  2019
หรือดาวน์โหลดแอพพลิเคชั่นฟรีได้ที่